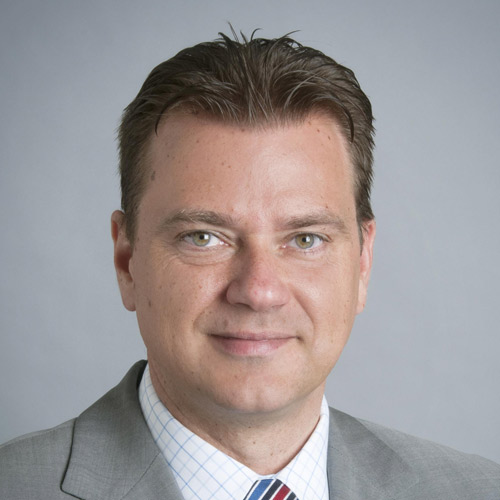 Robert Zivadinov, MD, Ph.D.
BNAC Director
Robert Zivadinov, MD, Ph.D., has served as Director of the Buffalo Neuroimaging Analysis Center (BNAC) since 2003. The Center is part of the Department of Neurology at the Jacobs School of Medicine and Biomedical Sciences at the University at Buffalo, State University of New York, where he is Professor of Neurology. He also is Director of the University's Center for Biomedical Imaging at the Clinical Translational Science Institute. Dr. Zivadinov is a consultant to foundations and pharmaceutical companies on multiple sclerosis and other neurodegenerative diseases and disorders.
Under his leadership, BNAC has become a leading global research center with more than 450 partner lab centers around the world. BNAC has secured nearly $50 million in research grants and performed over 90 Preclinical and clinical Phase I-IV trials involving over 15,000 subjects and 50,000 imaging scans. The Center's real-world translational research, using innovative MRI imaging and Artificial Intelligence, helps determine predictivity of biomarkers, interactions between the nervous and cardiovascular systems and their relationship to neurodegenerative disease and aging, as well as clinical, MRI, and genetic correlates. BNAC studies have been funded by NIH, the U.S. Department of Defense, national and international foundations, and leading pharmaceutical companies.
Having published more than 450 articles and 750 abstracts in leading peer-reviewed journals, Dr. Zivadinov's work is widely cited (with a Hirsch- or H-index of 85, a comparatively high measure of significance and influence in the research community). He has contributed chapters to several books and edited a textbook on brain and spinal cord atrophy in MS. He has received numerous awards from European and U.S. Neurological Societies for his published articles, research studies.
As a Professor of Neurology and consistent with BNAC's teaching mission, Dr. Zivadinov has taught or mentored hundreds of neuroimagers, trained masters, and Ph.D., MSc, MD, and undergraduate students, including residents and BNAC-hosted fellowships for visiting doctors and research scholars.
Dr. Zivadinov has directed and conducted significant, research in multiple sclerosis. Currently, he is leading research studies of quantitative MRI analysis and therapeutic interventions, including neuroprotective interventions, in people with neurological disorders and diseases such as MS, Alzheimer's Disease, Parkinson's Disease, and stroke. His current interests extend to the cardiovascular function, genetics, and neuroepidemiology.
Dr. Zivadinov holds two MD degrees, one from the University of Rijeka in Croatia (1993) and the other from the University of Trieste in Italy (1995). He has also earned two advanced degrees in Neurology from the University of Rijeka; the first, a MSc (1995), and the second, a Ph.D. (2002). He is Honorary Professor of Neurology at the University of Sidney, Australia. Dr. Zivadinov was a founding member of the International Society for Neurovascular Disease and currently serves on its Executive Committee.