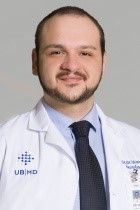 Dejan Jakimovski, MD, Ph.D.
Dejan Jakimovski, MD, Ph.D., is a Research Assistant Professor at the Department of Neurology, University at Buffalo, the State University of New York and Clinical Research Unit Director at Buffalo Neuroimaging Analysis Center. In 2015, Dr. Jakimovski received his medical degree at Ss. Cyril and Methodius University, Skopje, Macedonia and in 2020 he also received Neuroscience Ph.D. degree at University at Buffalo.
Dr. Jakimovski originally joined BNAC in 2015 as MRI Research Fellow. He performed research spanning from cardiovascular, environmental and genetic risk factors in multiple sclerosis (MS) and use of quantitative multimodal imaging techniques in predicting disease outcomes in MS and other neurodegenerative diseases. Furthermore, his focus included clinical, neuropsychological and optical coherence tomography (OCT) characterization of both adult and aging MS populations. During the short research career, he has published over 60 peer-review scientific papers and served as reviewer for multiple journals in the fields of neurology and neuroimaging.