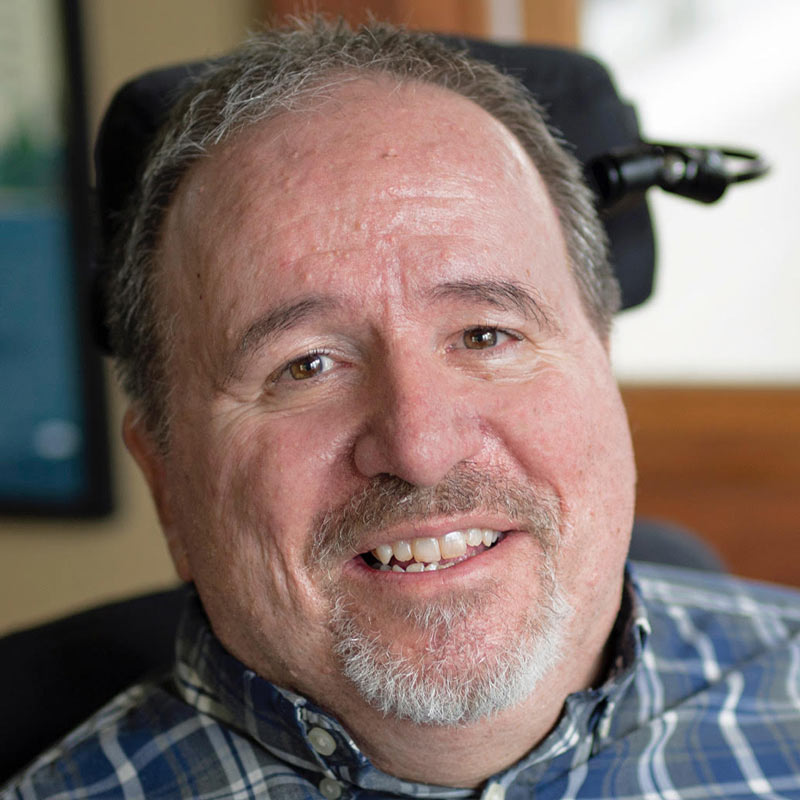 Mitch Sturgeon
Mitch Sturgeon is a writer and disability advocate living in South Portland, Maine, with his wife, Kim. Mitch earned his chemical engineering degree and MBA from the University of Maine. In 2001 he was diagnosed with primary progressive MS, and by 2009 he left the traditional workforce. With the help of fellow BNAC Advisory Council member Marc Stecker, he launched his disability advocacy blog, Enjoying the Ride, and later published a memoir of the same name.
Today, Mitch is a regular contributor of personal essays at multiplesclerosis.net and an occasional public speaker wherever people will have him. He employs a mixture of humor, inspiration, and straight-talk to share his experiences as a disabled person. His essays can also be found in periodicals such as Down East Magazine and in a variety of disability journals and websites. Mitch serves on the Board of Directors for 3i Housing of Maine, a group dedicated to establishing integrative, assistive housing for adults with mobility disabilities.
Mitch espouses positivity and gratitude as keys to leading a contented life despite severe disability. As an engineer, Mitch employs technology such as a stairclimbing wheelchair, robotic dining assistant, robotic arm, and voice-activated smart home technology to help him navigate a disabled-unfriendly world. As a member of the Buffalo Neuroimaging Analysis Center (BNAC) Advisory Council, Mitch supports BNAC's patient-centric, world-class MS research in any way he can, toward the goal of ending this insidious disease.