The Story of CASA-MS
Thursday, April 21st, 2022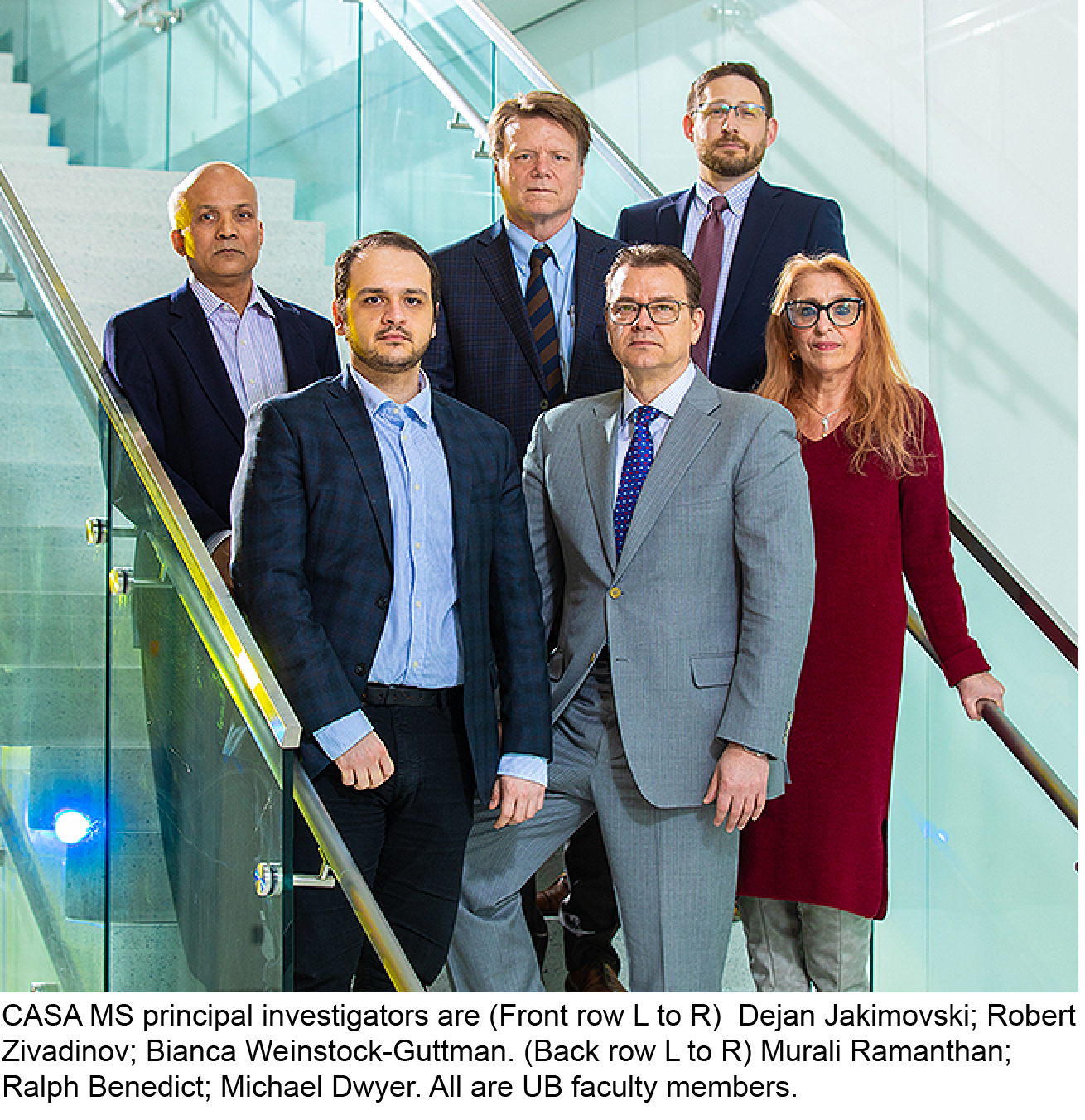 This spring, a group of Western New Yorkers with multiple sclerosis will begin helping University at Buffalo researchers break new ground in the study of this unpredictable, neurodegenerative disease that affects nearly 3 million people around the globe. Like many northern cities around the world, Buffalo has a higher incidence of MS than more southern locations.
The study will involve 60 patients at the Jacobs MS Treatment Center, part of the Department of Neurology in the Jacobs School of Medicine and Biomedical Sciences at UB. These patients live independently, without needing comprehensive caregiving services.
The Buffalo patients will be matched by age, gender and disease duration with 60 people with severe MS living at a long-term care facility in Boston, Massachusetts, that specializes in caring for people with advanced-stage MS.
The goal of the first-of-its-kind study is to explore the question that haunts MS patients as soon as they are diagnosed: Am I going to become severely disabled by my disease?
The question is perplexing. For the majority of MS patients, like the control group in Buffalo, the answer is "no," thanks in part to a host of new medications that can slow disease progression significantly, allowing individuals to enjoy many productive years with minimal or reduced symptoms.
However, about 5-10% of the 2.8 million people living with MS around the world will, seemingly randomly, experience a devastating decline in their ability to move, function independently and even communicate. Their disease progresses rapidly and they require significant nursing care that is either provided at home by a patchwork of family and friends, assisted by professional caregivers or in a skilled nursing facility. Such extensive disability can prove devastating to the individual and the family, both financially and emotionally.
What distinguishes these patients with severe MS from those who respond well to therapies and continue to live nearly normal lives for decades after diagnosis? The concern has confounded patients and their families, as well as clinicians, for too long, says Robert Zivadinov, MD, PhD, principal investigator on the study and professor of neurology in the Jacobs School.
'No therapies, no best practices, not even a consensus definition'
"There is little research on patients with advanced MS," says Zivadinov, who directs UB's Buffalo Neuroimaging Analysis Center and the Center for Imaging in UB's Clinical and Translational Science Institute. "There are no therapies, there are no best practices. There are no comprehensive studies. There isn't even a consensus clinical definition of 'severe MS.'"
Understandably, he says, patients and their families have long felt abandoned by the research community. The UB study he is leading, Comprehensive Assessment of Severely Affected MS (CASA-MS), is finally about to change that.
"It is entirely fitting that UB's MS researchers, who have contributed so much to what the world knows about this disease, are launching this study to discover what causes severe disability in multiple sclerosis," says Allison Brashear, MD, vice president for health sciences at UB and dean of the Jacobs School. "It is equally fitting that this new knowledge be generated in Buffalo so that members of our community, many of whom know all too well the impact of MS, will be among the first to benefit."
CASA-MS is a multiyear, investigator-initiated study funded so far by major gifts and grants by individuals whose families have been impacted by MS, and by foundations. The Annette Funicello Research Fund for Neurological Diseases recently provided a $100,000 grant to encourage gifts at all levels.
Individuals interested in donating to this study can do so through UB's crowdfunding site at https://crowdfunding.buffalo.edu/project/29733.
"The project will identify imaging, clinical and laboratory features, and risk factors that can lead to an earlier recognition of severe MS or predict transition to severe MS," says Ralph H. B. Benedict, professor of neurology at the Jacobs School and a CASA-MS co-principal investigator. "It will develop more sensitive outcome measures to better monitor disease progression, and will try to develop a better understanding of how protected, enriched environments, like the one in The Boston Home, can contribute to patient health."
"CASA-MS will help all practitioners who care for MS patients," says Bianca Weinstock-Guttman, MD, SUNY Distinguished Professor in the Department of Neurology at the Jacobs School and a CASA-MS co-principal investigator. "We urgently need evidence-based research to identify sensitive predictors associated with increased risk for rapid and severe physical and cognitive deterioration, as well as to delineate the best therapeutic interventions to halt progression and improve quality of life."
Patient-directed research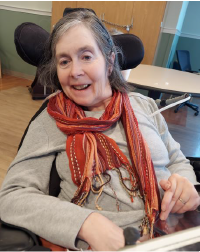 The decision to focus on those with advanced MS was prompted by BNAC's strongly patient-driven Advisory Council, which plays a key role in BNAC's selection of research topics. The council's quietly passionate chair, Larry Montani, had watched two of his siblings experience advanced MS and finally succumb to complications of the disease. One of them lived at The Boston Home, a uniquely supportive environment.
In 2019, at Montani's suggestion, Zivadinov and other colleagues from UB visited The Boston Home to explore a collaboration. Alex Burnham, director of rehabilitation services there, who works with severe MS patients, was struck by the potential value of what the UB researchers were proposing.
"There hasn't been any consistent link, whether it's genetic, environmental, lifestyle or otherwise, that shows why one group of patients with MS tends to progress faster than the other," he says. "From our perspective, this is probably the largest observational study to determine one of the big unknowns about MS."
And while providers of care like Burnham are focused on shining a light on these issues, clearly the biggest supporters of the research are those whose families have been impacted by severe MS.
Sara Quayle, a Boston Home resident and CASA-MS study participant, had been a busy pediatrician with a private practice in Burlington, Vermont, when she was diagnosed with MS in 2002. As with many MS patients, she had many years when she was still able to work, interrupted by short flare-ups of symptoms. But in 2014, while on a family vacation to London, she suddenly was unable to walk. Once back home, she was swiftly hospitalized.
'Since then, I've not gotten better'
"In the hospital I was really bad," she recalls. "I could not talk, I had no voice, and no coordination. That was a mess. I think I almost died. I wasn't scared, I had had relapses before. But ever since then, I've not gotten better."
She spent several years in a rehab facility, working on regaining her ability to walk. It didn't happen. After a period in a nursing home, she tried to return to an assisted living environment. "No one would take me; I was too severe," she recalls. That's when she found out about The Boston Home, where she has lived and thrived since 2018. She has even started speaking again.
"The beauty of our community is we are filled with rich stories here," says Christine Reilly, chief executive officer of The Boston Home. Sara's story is one of them.
The Boston Home residents are excited to have the opportunity to help advance knowledge about their disease. Recruitment of the 60 Boston Home patients is nearly complete. Recruitment of the Buffalo patients will continue until this summer.
In addition to Zivadinov, Weinstock-Guttman and Benedict, UB co-investigators in the Jacobs School are Dejan Jakimovski, MD, PhD, research assistant professor of neurology; Niels Bergland, PhD, integration director in BNAC; Michael G. Dwyer III, PhD, associate professor of neurology and bioinformatics; Ferdinand Schweser, PhD, associate professor of neurology and biomedical engineering; and Zachary Weinstock, MD, PhD student in the Jacobs School and BNAC. Murali Ramanathan, PhD, professor of pharmaceutical sciences in the UB School of Pharmacy and Pharmaceutical Sciences, is also a co-investigator.