Isolating the timeline for one factor in MS progression: white matter lesion-induced atrophy occurs in year one after WM lesions appear
Monday, July 25th, 2022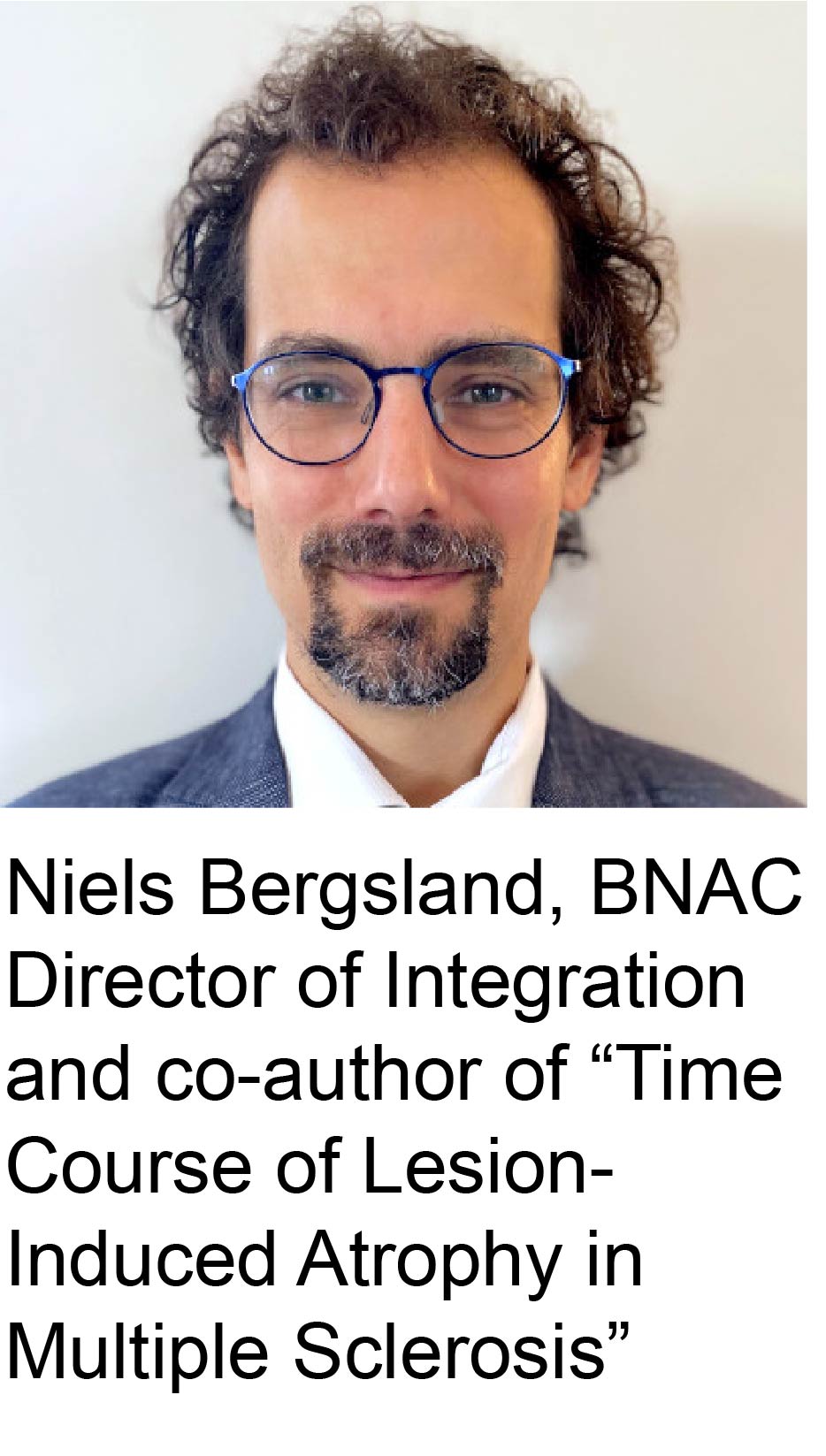 Atrophy or volume loss of the brain's deep grey matter, and thalamic atrophy specifically, are strong drivers of worsening clinical disability and cognitive decline in people with multiple sclerosis (PwMS). A BNAC, investigator initiated study co-authored by Niels Bergsland, Ph.D., entitled, "Time course of lesion-induced atrophy in multiple sclerosis," now provides a more precise understanding of when some of these impacts occur, improving our understanding of the pace of MS pathology.
Earlier studies confirm that white matter damage in the form of lesions predicts increased grey matter atrophy in locations where it is linked by tracts to white matter. The BNAC study, published in April 2022 in the Journal of Neurology, set out to determine when and for how long atrophy occurs in connected brain regions after new lesions form in the white matter tracts that connect to grey matter.
By quantifying lesion-based dysconnectivity maps in over 700 MRI scans of 181 participants, aged 18–55 with early relapse-remitting MS, Bergsland and his BNAC colleagues retrospectively examined thalamic atrophy, deep grey matter atrophy, and tract disruption.
The study found that nearly all the lesion-induced thalamic atrophy and white matter tract disruptions occur in the first year after white matter lesions appear. This means that lesions can materially impact connected tissue for up to one year after they form and that atrophy that continues to accrue after year one cannot be attributed only to white matter lesions. The volume of this tract-based atrophy is relatively small compared to the total grey matter volume loss in PwMS.
Characterizing more exactly when and for how long grey matter atrophy is likely to increase following new white matter damage in connected tracts is fundamentally important to understanding both the disease pathology and disease progression in PwMS. Specifically, this research suggests that grey matter-related disability might continue to change (worsen) for up to a year after lesions form. Moreover, because lesions alone aren't sufficient to explain grey matter atrophy, further clinical trials that measure atrophy (not just lesions) are likely to reveal more about the course of disability.